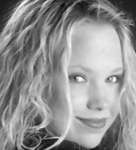 Steve, Seth and Terri Bergman have started a foundation call the "Ashley Bergman Memorial Foundation". It is a foundation that will promote safety in the racing community, provide scholarships and contribute to various humanitarian causes, all things that Ashley was very interested in. Ashley's family is doing this to honor her and continue her livelyhood, touching and helping as many lives as they can. The mailing address for the foundation, is:

Ashley Bergman Memorial Foundation
8826 East Meadow Lake Drive
Snohomish, WA 98290

Ashley Ann Bergman
A Child so sweet
with a star in her eye,
Again I ask God...
Why her God, why??
So much to live for,
So much more to do
It was her turn to go,
But who could've knew?
With the voice of an Angel
She sang from her heart,
We will all miss her greatly,
Now that we had to part.
With God by her side now
We can always know she's okay.
If we ever need to talk
All we gotta do is pray.
She was all ready an Angel
Now she got her wings,
I think about the times we shared
Tears with smiles it only brings.
One sweet day we shall meet again.
I'll never forget you
Ashley, for as long as I shall live.
Written in honor of Ashley by Priscilla Ramirez.
Ashley was born on August 24, 1983 and passed away on May 3, 2001.
God picked His prettiest flower first, and during her time here, she lived her life to the fullest. Ashley played soccer, softball, tennis, but she was a typical teenager, in that her favorite place was the mall. Her first love was racing. Ashley began racing in Go Karts at the age of 12, but her life long dream was to move on to bigger and faster things. Her dream was fulfilled for her by the opportunity to race a Super Four stock car this year. Ashley, a senior at Cascade High School had the voice of an Angel, she sang in the Jazz Choir at school, you couldn't help but to stop and listen when she began to sing. Ashley is now singing with the Angels in heaven. Everyone believes that she was an Angel. Ashley touched the lives of everyone that she came across.
Ashley leaves behind her parents, Steve and Terri Bergman and brother, Seth; her grandparents Carol and the late Sarge Bergman, Sylvia and Herb Sunahara, Sidney and Helen Raysbrook, and Verne (Butch) Swimm; her great grandma Elaine Bergman-Wallis; her aunts and uncles, Richard and Karen Bergman, Sue and Roper Shortt, Lynn and Mike Mills, and Valauri Hodel; cousins, Traci and JJ Kooy, Tyler and Kelsey Mills, Andrea and Delainey Bergman, Brittni and Tanner Kooy and Michael Hodel, as well as numerous other relatives.
Funeral services to be held on Wednesday, May 9, 2001 at 2:00 pm at Alderwood Manor Community Church, 3403 Alderwood Mall Blvd., Lynnwood.
Graveside services to follow at Cypress Lawn Memorial Park in Everett.
Remembrances can be made to Boeing Employees Credit Union or Silver Lake Washington Mutual Bank
Cascade senior loved life on fast track




By Karl Schweizer
Herald Writer

EVERETT -- Seventeen-year-old Ashley Bergman loved tennis, singing and fast cars.
The Cascade High School senior was doing what she loved Thursday when she climbed into a stock car at the Yakima Speedway in her second day of a two-day racing class.
It was a step up from the go-karts the popular athlete had driven since she was 10 years old.
But Ashley somehow lost control of the car and crashed into a wall as her father looked on. She died of head injuries at a Yakima hospital.
The death shook her family and students at Cascade High, where counselors comforted grieving students Friday.
Students said Ashley was well-known and well-liked at the school, where she sang in the elite jazz choir, was co-captain of the tennis team and was a mentor for incoming freshmen.
Several students placed a memorial of flowers and a poster on the fence surrounding the school's tennis courts.
Senior Kelsey Anderson, 18, first was drawn to Ashley in their freshman year for her infectious smile.
"People who didn't even know her liked her," Anderson said. "You'd walk past her, and she'd just beam."
"She was just one of those people you'd meet once and would want to meet again," said Matt Heiser, 18.
Cascade graduate Dan Paige remembered Ashley for her beautiful voice. Ashley often sang the national anthem at school sporting events, said Gay Campbell, spokeswoman for the Everett School District.
But racing was Ashley's true love. The girl took after her father, Steve Bergman, who raced stock cars throughout Ashley's growing-up years, said her mother, Terri Bergman. Ashley had raced go-karts since she was a child. She hoped to race larger cars after graduation.
That's why she was in the Competitive Edge Racing School -- to learn to drive the bigger cars, Terri Bergman said.
"The day before the accident, she had a full day on the track and did very well. They were very impressed with her skills and agility," Bergman said. "On the second day, the car just got a little loose."
Bergman and other family members went to Yakima Thursday to get her husband. Coming home without Ashley was the hardest thing they ever had to do.
"To lose a child, it's the worst thing a mother or father could do. It isn't right. It's supposed to be the other way," she said.
Friends and relatives have showered the family with support, she said.
Bergman said she takes comfort that Ashley's organs have been donated. It was just like her daughter to want to help people, she said.
"She's going to be missed by so many, especially her family."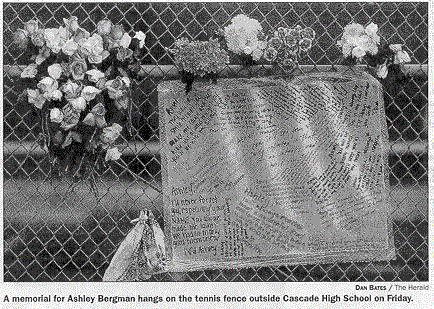 Student dies in racing accident
By Susan Wade
Special to The Seattle Times
Ashley Bergman had the gift of song: a haltingly lovely voice that could dazzle with jazz tunes or speak words of kindness to her friends.
Her memory echoed throughout Cascade High School in Everett yesterday, as stunned students learned of the death of the 17-year-old senior. Principal John Green described Bergman as "popular and respected by students and staff for all the right reasons."
Bergman died of head injuries after a crash into the wall Thursday morning at Yakima Speedway. She was a student at a two-day class at Competitive Edge Racing School, a Woodinville-based operation.
Bergman was coming out of a turn and evidently hit the throttle instead of the brake. The car spun and pitched her into a concrete wall at approximately 40 to 50 mph. She was taken to Providence Yakima Medical Center, where she was placed on life support.
Bergman's mother, Terri, called Ashley "our angel" and said her daughter continues to give through organ donation: "She has touched so many lives, and she keeps on helping people. She gave all donatable organs. Everything."
Ashley Bergman's father, Steve, raced foreign stocks and superstocks for about 20 years at Evergreen Speedway in Monroe, and her grandfather, "Sarge" Bergman, served on the Foreign Stock Car Racing Association board of directors at Evergreen.
"She was very competitive and very agile," Terri Bergman said of her daughter. "She was just kind of born for it. She raced go-carts and won quite a few trophies."
Ashley's brother Seth, 13, also races go-carts. Ashley was planning to step up to the Super Four Series, a Northwest-based traveling series for foreign stock cars. And she and her family thought some direction from Randy Koch, a respected instructor who ran the Woodinville racing school, would be helpful.
"It was one of those fluke accidents," Terri Bergman said.
She said her husband was on the opposite side of the track when the accident occurred at 11:20 a.m. Thursday. She said he ran across the track to help his daughter.
"He tried to wake her up. He thought she was just knocked out," she said, "but then he found out that wasn't what was going on."
Efforts to reach Koch were unsuccessful yesterday. But Mickey Beadle, who operates Evergreen Speedway, where Competitive Edge often conducts courses, said Koch "runs a very professional school, the best in the Northwest."
"This is especially tragic, when you consider how many lives he probably has saved on the highways by teaching drivers how to control their cars," Beadle said. "He teaches how to handle every situation you might encounter out there.
"It's a tough loss. We've known the family since the late 1960s."
An `adventurous heart'
Green, Cascade's principal, remembered Ashley Bergman as captain of the school tennis team and a "talented performer in our vocal music program, a wonderful jazz singer" but perhaps more vividly for what he called "her adventurous heart."
Green said the images of Bergman racing go-carts and stock cars, stirring an audience with her jazz solos, reaching out to welcome new or shy students and encouraging her tennis teammates swirl in his memory. Her wide variety of interests, he said, is what made her so intriguing.
"Every student here is special," Green said, "but Ashley was the kindest kid. Everybody loved her. I don't think she had any enemies. That's the thing that's so crushing."
Performing with attitude
This year Bergman entertained audiences with a solo rendition of "Sometimes I'm Happy." Cascade choral director Sonja Sarr laughed yesterday at the memory of Bergman belting out such tunes as "Peel Me a Grape" and "Fixed His Wagon Blues" in previous performances.
"She had att-i-tude," Sarr said fondly.
Bergman sang with a school jazz group called the Del Sonics, which is scheduled to give a community performance today for the Washington Association of Letter Carriers. Group members decided to proceed with plans and, Sarr said, dedicate the donation they receive to Bergman's memory.
"Somehow, we're going to do something in Ashley's name," she said. "I don't know how or what yet."
She said that staff members and students collected material yesterday for a school tribute to Bergman but that details had not been completed. Students gathered in the school library to write messages of remembrance and wishes for the Bergman family on posters.
A team of grief counselors was at Cascade and will be available Monday and as long as needed, said Carole Bowers, director of resource development for the Everett School District.
A family spokesman said the funeral service will be next week at Alderwood Community Church in Lynnwood. The date has not been set. Donations may be made to the Boeing Employees Credit Union or Everett Mutual Bank in behalf of Ashley Bergman.
In The Fast Lane: A life taken, but spirit endures
Thursday, May 10, 2001
By HOLLY CAIN <mailto:hollycain@seattlepi.com>
SEATTLE POST-INTELLIGENCER REPORTER
Steve and Terri Bergman decided on a large church for their 17-year-old daughter Ashley's funeral yesterday. It's a good thing they did. "I have just been amazed at how many lives she touched," said Terri, genuinely warmed by the notion. "I just didn't realize." Hundreds of people attended the service in tribute to the Cascade High School senior, who died of head injuries when the stock car she was driving in a racing school struck the wall of Yakima Speedway last Thursday morning. A popular student, Bergman led an action-packed life. She was captain of the tennis team and an accomplished singer in the choir. She also was a loving daughter who decided years ago she wanted to carry on the family's tradition of auto racing. Her father has raced for decades, just as his father did before him. Ashley had been racing go-karts since she was 9 and was in race school preparing to move up to heavier, faster stock cars. While most of us can't comprehend the Bergmans' enormous grief, another multi-generational racing family can empathize. It was one year ago this week that fourth-generation racer Adam Petty, 19, was killed while practicing for a NASCAR Busch Grand National race in New Hampshire. It's difficult to hear about sporting tragedy. But perhaps it's human nature to be more disturbed when sport claims the lives of young people, such as Bergman, Petty, CART drivers Greg Moore and Gonzalo Rodriquez, and NASCAR racer Kenny Irwin -- all 30 or younger, killed in racing accidents the past two years. The timing is especially hard to bear when you consider that Bergman and Petty died during the one week of the year designated to honor mothers and celebrate their children. Kyle and Pattie Petty are marking the anniversary of Adam's death this weekend privately with family. Kyle says there isn't a day that passes that he doesn't think about Adam's broad smile. He said he doesn't want "it" to get easier with time, because that would somehow lessen the pain he feels and weaken his memories of his son. These sad stories about such promising, loving young people challenge your spirit -- until you reflect on their lives. Perhaps their greatest legacy is their spirit and the way it can continue to inspire. While some of us don't subscribe to the "they died doing what they love" theory, the fact is these young people were fulfilling dreams or establishing paths toward their goals. They were high-octane personalities fortunate enough to find their passion early in life and participate in it. When word of Bergman's death circulated around the Northwest racing community, 17-year-old Puyallup twins Amber and Angela Cope were especially saddened. It hit close to home, literally and figuratively. Like Bergman, they have been racing go-karts since they were young girls and now race late-model stock cars locally, as was Bergman's plan. "Our thoughts and prayers are with Ashley's family," Amber said. "But all that has happened hasn't changed our dream. Maybe it gives us more motivation. She loved what she was doing, and we probably would have been racing with Ashley. "Some people don't understand: This is our desire. Racing is what we do," added Angela, who joined Amber in reassuring their parents they still want to compete. While we mourned for one young racer this weekend, another was making a mark nationally. PacWest Racing's Scott Dixon, 20, became the youngest winner in CART history Sunday and the youngest in all of big time open-wheel racing. Only a month earlier, 21-year-old Sam Hornish had claimed that distinction, winning two of the first three Indy Racing League events of the season. The runner-up in one of those events was 20-year-old Sarah Fisher. Maybe that could have been Bergman. Perhaps it will be the Copes. The sport Bergman fell in love with is high risk, although that doesn't ease the pain her loved ones are experiencing. As the Bergman family is discovering, however, the quantity of Bergman's friends is only surpassed by the quality of her life.
To submit information contact: